Bright Pink Agency Franchisee Clients Cleaned Up at the 2021 PuroClean Convention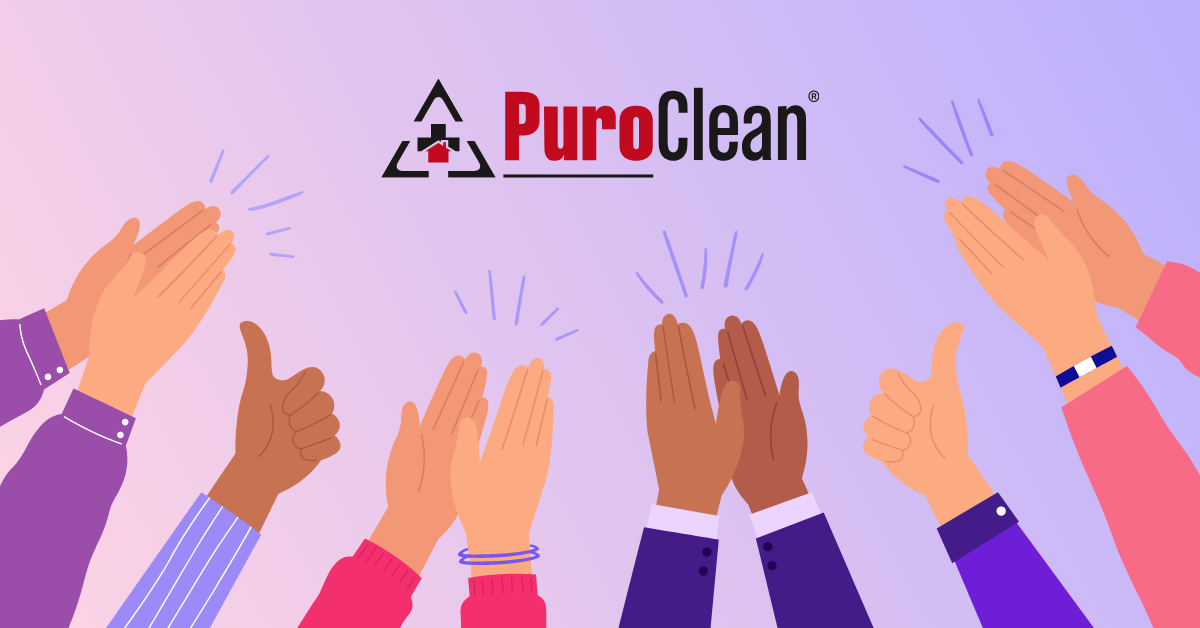 We all love a good celebration (check out our social media for proof). However, for us, not much is better than when we get to celebrate our clients' accomplishments. As a marketing partner to the PuroClean franchise network, we participated in the 2021 PuroClean Convention at the Hard Rock Hotel and Casino in Hollywood, Florida. It was an excellent opportunity to interact with our franchisee clients from across the country and get together to mingle, learn, and celebrate.
While we work closely with PuroClean's corporate marketing department, we also partner with numerous individual franchise offices in the network. In fact, our franchisee clients are located all across the United States and Canada. We're thrilled to report that many of the franchise owners we work with received recognition at the Convention for their service and excellence in 2020.
COVID-19 has ushered in many new challenges to pretty much everyone's lives. However, it also introduced opportunity, as the important role of restoration professionals has increased exponentially. Professional sanitation for homes and businesses and the water, fire & smoke, mold, and biohazard remediation jobs they've built their reputation on have become essential services for communities learning to adjust to a new normal.
Our franchisee clients have stepped up in a big way to meet the challenges of COVID-19 head-on. We could not be more proud of their efforts and the work they continue to do every day.
Microbial Warrior Class
Arguably, one of the most challenging aspects of what PuroClean does is biohazard remediation. This is such an intricate subject, in fact, that they've recently incorporated the Microbial Warrior program as an optional training for those who are willing to take their services to the next level. The rigorous class, taught by the Global Biorisk Advisory Council, teaches participants how to safely and effectively clean the more complicated crime scenes, trauma scenes, and other biohazard locations. These disturbing situations are the most challenging aspect of what PuroClean franchises do.
Those who handle the cleanup of these devastating events need to be both physically and mentally prepared to see and handle the aftermath of severe injuries and death. As you can imagine, this is not something that everyone will or even can do. Therefore, we'd like to congratulate all the franchise owners who rose to the occasion and joined the pilot Microbial Warriors class for PuroClean, but especially our clients:
Craig Hawkins (PuroClean of Redmond and Everett)
Jose Pureco (PuroClean of Plantation)
Antonio Medina (PuroClean of Wellington)
Karen and Brian Argus (PuroClean of Stuart)
Mario Martinez (PuroClean Disaster Services in Chicago)
Bob Jordan (PuroClean Northwest in Lynnwood)
Carlos Niemes (PuroClean of Pembroke Pines)
2020 Hot Shot Award
The PuroClean franchise owners who had the fastest growth rate over the prior year earn the Hot Shot Award. The 2020 Award went to our 'hot shot' clients, David Shiffman and Ricardo Herdan, owners of PuroClean of Aventura and PuroClean of Davie. What a well-earned, prestigious honor! Never stop growing, David and Ricardo!
2020 Brand Promise Award
Franchise owners who best exemplify the values that PuroClean strives to represent received the Brand Promise Award. Tim Lohse and Keegan Trudgen of PuroClean Disaster Services took home this well-deserved award (among others). Excellent work, Tim and Keegan (and team!)
2020 Rainmaker Award
The Rainmaker Award is presented to the franchise owners who have gone above and beyond to achieve success within the network while dedicating themselves to the success of others and their community. Two of our clients were among those who earned this prestigious recognition: Keegan Trudgen of PuroClean Disaster Services in Chicago and Tomas Mejia of PuroClean of Central Denver. Way to step up that relentless customer service, Keegan and Tomas!
2020 President's Circle
The President's Circle acknowledges those franchisees within the Top 10 percent of the entire PuroClean network. This prestigious recognition is something for which all franchise owners strive. These owners have built businesses of sustained excellence and cultures that reinforce the ideals that PuroClean strives to represent. Congratulations to our clients who made the 2020 President's Circle!
Bob Jordan (PuroClean Northwest in Lynnwood, WA)
Keegan Trudgen and Tim Lohse (PuroClean Disaster Services in Chicago)
Rick Gutridge (PuroClean Water, Fire, and Mold Experts in Columbus, OH)
Ricardo Herdan and David Shiffman (PuroClean of Aventura and Davie, FL)
Paul Reiss (PuroClean Emergency Restoration Services in Caseyville, IL)
Craig and Jenny Hawkins (PuroClean of Redmond and Everett, WA)
Dalila Vazquez and Israel De La Vara (PuroClean Property Savers in Austin, TX)
Chris Empey (PuroClean of Bluffdale, UT)
Phil Dhargyal and Tenzin Jigme (PuroClean of Alexandria, VA)
Robert Schattner and Mike Park (Purofirst of Metropolitan Washington)
We are exceptionally proud of PuroClean overall, as a company. However, we're especially proud of each and every one of our franchisee clients for the dedication they show to their communities and the necessary services they provide every single day. It's an honor to work with the best in the business.