Takeaways from the 2022 IFA Emerging Franchisor Conference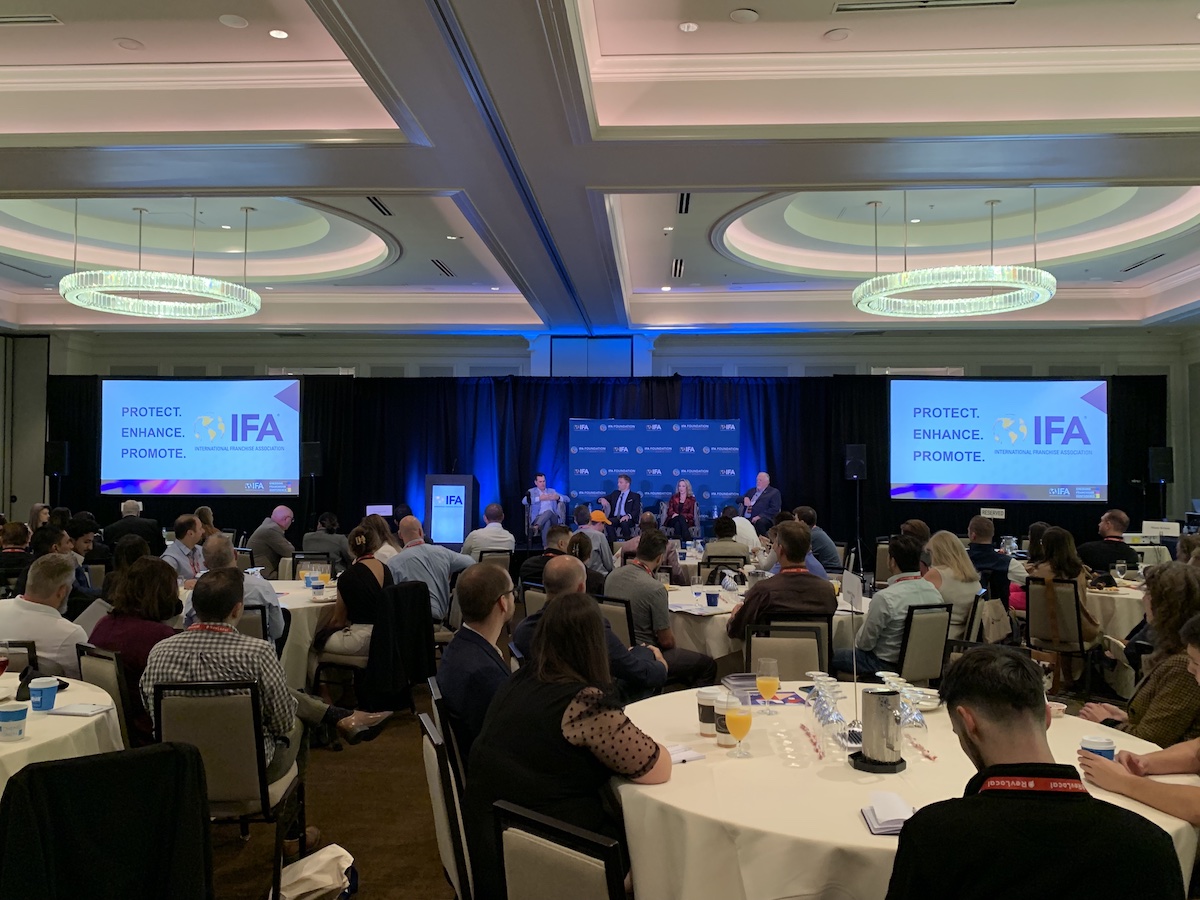 Whether you're just starting to think about franchising, are currently growing an emerging franchise brand, or are established and just want to see what we got out of the EFC, this one's for you!
The franchising industry, in general, is a very giving place. We're all family here. As an emerging franchisor, you may have questions, need advice or resources, or maybe just want to talk to someone who understands the challenges you're experiencing at any given point in your business's growth.
There are franchise veterans and powerhouse business gurus with oodles of franchise experience just a LinkedIn message, an email, or a phone call away. We're happy to celebrate your wins, too! Your brand's success equals franchise industry growth, which ultimately helps everyone. The IFA can offer more events, programs, overall support, and government representation as the strength of franchising increases as a whole.
We at Bright Pink Agency are eager to share some of our takeaways in case they help or encourage someone else along the way.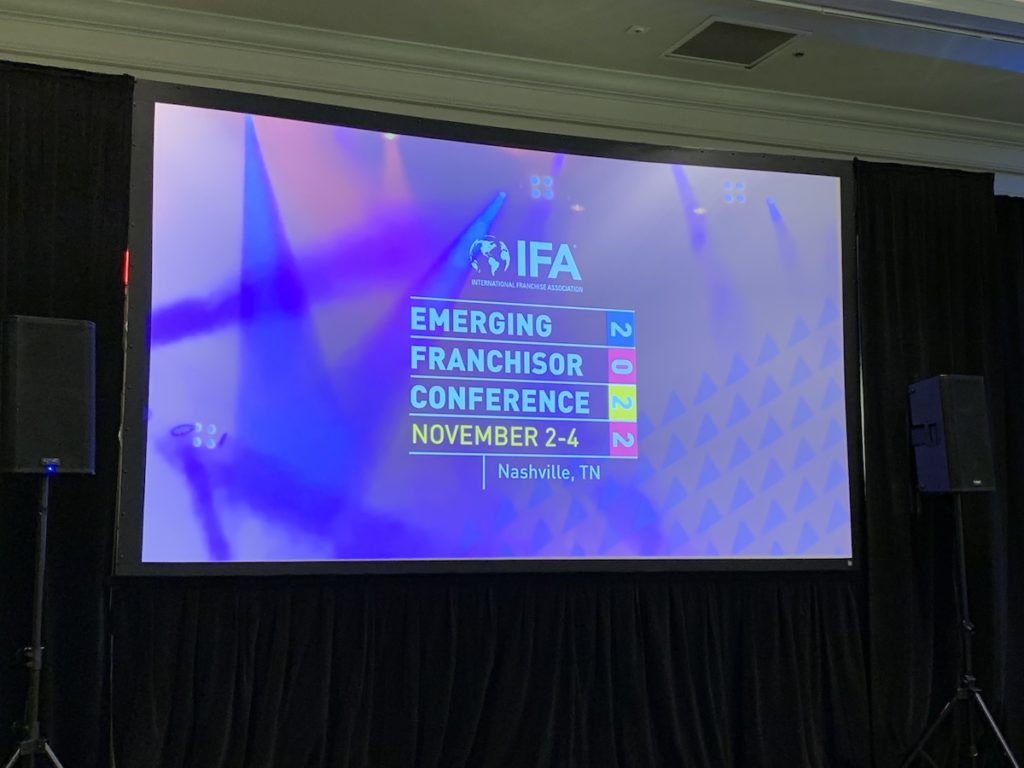 Our 2022 Emerging Franchisor Conference Takeaways
1. Know Your Audience – Really Well!
Consumers are one thing, but you also need to identify the ideal franchise owner candidates for your emerging franchise brand, get to know them, and look for ways to attract and connect with them authentically. But let's face it, not everyone is going to be the target demographic for your opportunity.
Take into account all the qualifications and characteristics you're looking for in your franchisees, and you can see how knowing who your audience is will allow you to craft your messages accordingly and appeal to them directly. Map their potential journeys and get to understand them truly. This will make all the difference in drawing more motivated and better-qualified owners.
2. Don't Leave Anything to Chance
For both established and emerging franchisors – this is very important! Don't leave gaps where your franchisees have to figure things out on their own… because they will; (it just might not be the way you had hoped!) Give them the structure and support they need and establish 'guardrails,' but include some flexibility within them.
Consider building an approved preferred vendors list to help locations achieve your goals the right way. Provide uniform branded creative assets they can personalize and use at any time. Give access to online training and resources 24/7. Create a thorough brand identity guide and establish best practices across all your teams. But, remember, it's ok to be flexible, sometimes when the situation merits it. Some franchisees may prefer having a hand in some of the creative aspects, and some just won't be interested in recreating the wheel. But once everything is clearly mapped out, your whole team will find it easier to stick to your vision with less variance.
3. Choose Franchise Partners (and Vendors) Carefully to Grow With
It's easier to wait for the 'right fit' (for both of you) than to try to untangle a bad business relationship down the road.
One EFC speaker likened a franchisor/franchisee relationship to a marriage. We think it also applies to a company/supplier partnership, as well. There's a "dating" phase before the "marriage" (aka signed Franchise Agreement or a Preferred Vendor Agreement.) Are you going to want to work with this person/company for the next several years? It's better to get to know them and make sure your goals and values align. Be sure that your work styles are compatible, and that you envision the relationship going the same way.
4. Protect Your Brand Reputation Above All
There's no such thing as 'local' anymore. A bad review left online for a brand location in California can impact the opinion of a potential customer in Florida. One bad decision made by an employee, posted online, can go viral and have a lasting negative effect on a brand's reputation and public opinion overnight – even opening them up to legal action – as one speaker shared from his own personal experience. Once an ugly accusation hits the news cycle, it's a lot harder to dig yourself out of the mess created. You may not have done anything to make it happen; did you do enough to prevent it?
5. Make Sure Everyone in Your Brand Knows Their "Why"
This seems obvious but here's your sign to revisit this periodically. Often we become so busy in our day-to-day activities, checking off tasks as the hours fly by, it's easy to forget the reason we do what we do. Most brands' "purpose" is not just to sell widgets or a service. Most aim to solve a problem or make their customer's life easier, better, or more fulfilled.
Your brand's "why" will keep things in fresh perspective, and keep everyone motivated as you and your team navigate rough waters or when things get to feeling repetitive. It will connect you to your community. It will interest better-suited franchisee candidates, clients, and partners who are aligned with your mission. Develop a simple, meaningful, yet straightforward statement, then shout it from the rooftops!
6. Culture, Culture, Culture!
It's never too soon (or too late) to start dreaming about great corporate values. A well-planned brand culture should affect everything. From the way the leadership team behaves, communicates, and engages with each other and their employees or franchisees; to how members of the staff work, play, problem-solve, and celebrate success together; to how the brand interacts within and (hopefully) benefits a local community; to how employees are supported and empowered to serve clients.
7. Communication is KEY
We've all heard it before, but do we know what it really means? As part of a great franchise brand culture, of course, verbal and written communication should be open, honest, inclusive, and consistent. But here's the spin: Listening is a huge part of communication.
Keep an open mind and encourage communication in both directions! We recommend including (at least some) franchisees in any brand-affecting decision-making or review process. Really ask them what they think—and then really hear what they have to say. Of course, make it clear you're asking for their advice, not their approval. We just know from experience that it's easier to get buy-in from people when they feel heard. Taking their suggestions for consideration from the beginning is a class act.
8. Enjoy the Journey
One of the speakers shared that only about 15% of franchise brands will reach 100 units but that many people give up when they don't realize success quickly enough. First, define what success will look like for your brand, then share your vision with your team. Keep it top of mind with a clear goal in sight. But know that growing a large franchise can take years and years of growth and refinement before finding the magic combination that works to unlock the future legacy of your brand. So make the most of the ups and downs. Know that it's all part of the journey, and most important of all, don't quit!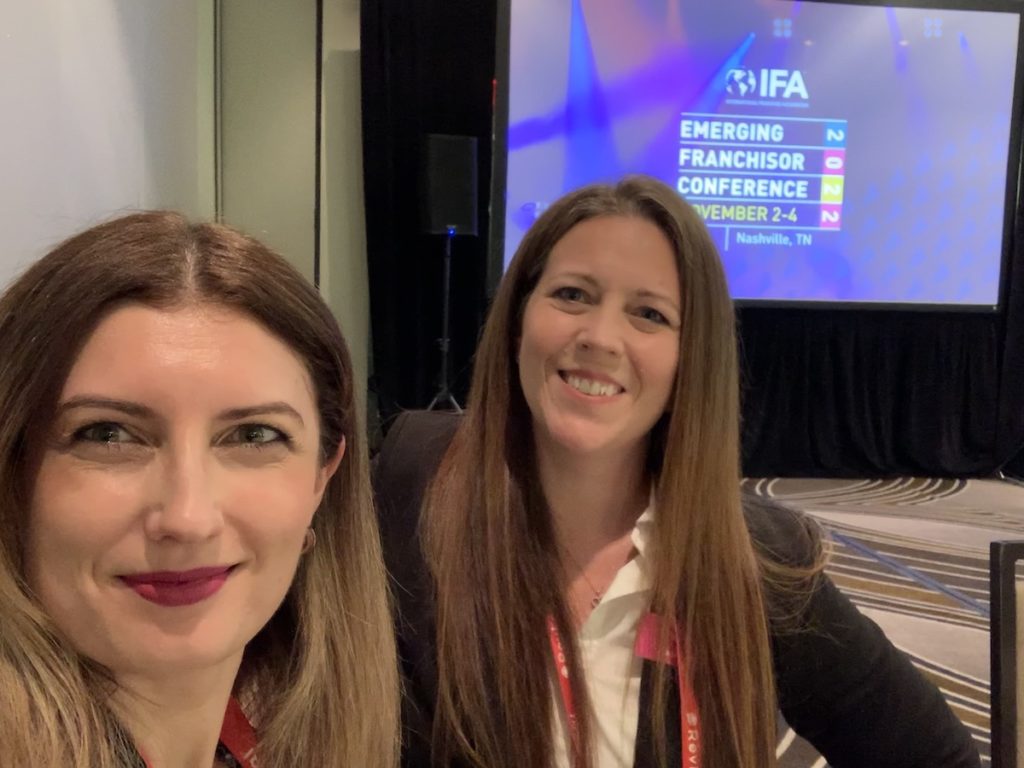 Bonus Takeaways:
The top 4 marketing tools to have in place before brand expansion, according to an experienced panel of 3 franchise leaders include: writing your story to be able to share your 'why' (as mentioned above,) an effective and well-put-together website, a well-established Social Media presence, and some well-placed Public Relations stories to get the word out!
Take advantage of event sponsorship opportunities if you can. Get your name out there. As a Silver Sponsor for the Emerging Franchisor Conference, Bright Pink Agency was able to brand our message and logo on the room key cards for conference guests staying in the hotel. It was exciting to be recognized when we introduced ourselves to other attendees!
Overall, the Emerging Franchisor Conference in Nashville, TN was absolutely fantastic. We highly recommend all emerging franchisors (including anyone with <50 franchise locations!), people thinking about franchising their already successful business, and franchise industry suppliers attend this valuable annual conference.
The Emerging Franchisor conference was incredibly interesting, encouraging, validating, educational – and so much more – for all of the attendees. The content and topics were geared toward Emerging Franchisors. But, as franchise suppliers, we still learned so much that both impact us as a growing business and also increase our bandwidth as emerging franchise marketing experts. It was fun to engage with like-minded individuals from various industries and regions in an open dialogue, to exchange ideas, and to share and celebrate our success stories. We can't wait to go back again!
---
Since 2008, Bright Pink Agency is an award-winning franchise marketing agency serving franchisors and franchisees throughout North America. We help our clients grow through effective communication, working together to clarify their message and tell their stories so that they can fulfill their purpose. We are most proud to have been voted PuroClean's 2021 Strategic Partner of the Year by the franchise owners.