How to Request More Authentic Reviews the Right Way
Reviews are undeniably important in making purchasing decisions. Customers rely heavily on suggestions from friends and strangers when making these decisions, whether about Amazon purchases or where to eat. Read on to discover why online customer reviews are critical and learn the most effective ways to solicit reviews for your business.
When the recommendation comes from a friend, one may be enough to make a purchasing decision. Yet, when it comes from strangers, the referral needs more than one occurrence. People ask themselves: "How many people left a review? Are they "real" people? Are they local, or are they like me in any way?"
But here's the bad news: getting those coveted reviews isn't easy. Unlike Amazon products or a local Chinese restaurant, you may not have dozens (or hundreds) of customers you serve daily. To get reviews, you must ask for them. Here's more info about reviews and how to solicit them correctly.
First, let's look at the benefits of reviews for your business, especially if it's a brick-and-mortar store.
Benefits of Reviews for Your Business
Social Proof and Brand Credibility
Reviews build social proof because people trust others when deciding where to spend their money. Here are some eye-opening facts from a recent BrightLocal survey:
98% of individuals check for online reviews of local companies.
87% of customers use Google to assess local companies.
46% of consumers believe that online reviews are reliable.
A positive review is even more important than a referral, as it's a public endorsement that doesn't just work once. A review stays in your account and is front and center for thousands of people searching for a service like yours.
Reviews provide potential customers with critical feedback from past customers, even if they're strangers. Essentially, reviews can turn your satisfied customers into your brand ambassadors.
Positive reviews can also help people understand how your product/service can improve their lives. Many customers leave reviews showing potential buyers how you deliver on your brand promise in the real world.
Overall, a positive customer review might bring you what other marketing efforts can't: social proof. And, to turn leads into customers, social proof is a necessity.
Search Engine Optimization (SEO)
Reviews have the most impact on local searches, improving your findability. When you search for a local service in Google, you will notice that the search results appear alongside a scaled-down version of Google Maps. Three businesses are listed along with their rating, opening hours, and prices. This is where you want to be — in the Google 3-Pack.
This ranking depends on the business location, site authority, backlinks, reviews, and other SEO factors. Keep in mind that users can also choose to view businesses based on ratings.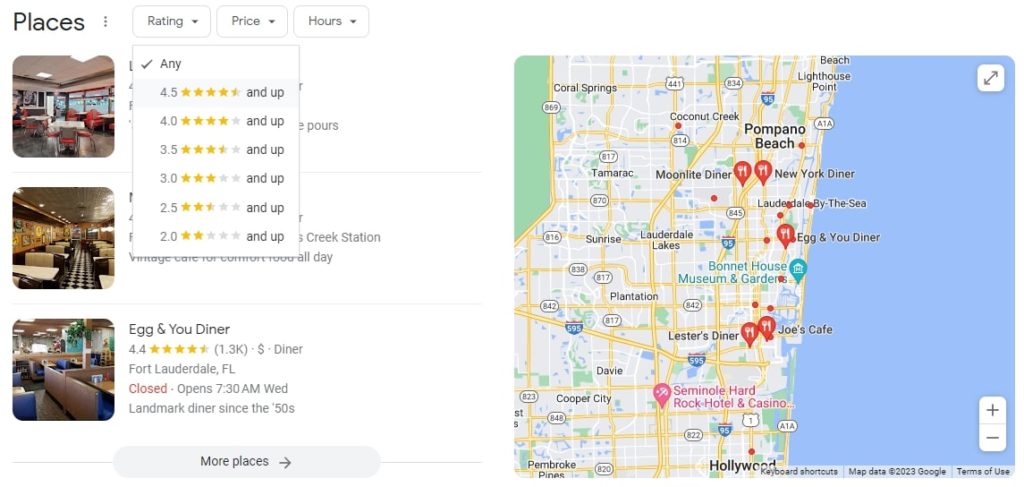 Furthermore, the reviews published on your site can boost your topical authority. What does that mean? It means your website is a bigger authority on one or more topics, such as the services or products you sell. This contributes to your domain authority; the higher your authority, the better your overall search rankings.
Another benefit is that Google can potentially show your reviews in featured snippets. These are quick answers to questions that someone asked on Google. They show up at the top of the search results and can greatly benefit your website traffic.
Is It Unethical to Solicit Reviews?
Each platform you use has its own guidelines on what you can do in seeking reviews. You'll suffer consequences if you don't comply with the guidelines. Your business listing may be removed altogether, or it could suffer public shaming from the platform or even your customers. Yelp, for example, outright prohibits asking customers for reviews.
Google, however, is fine with review solicitation as long as you don't entice clients with money, discounts, or other prizes. In fact, Google encourages businesses to manage reviews and to invite customers to leave reviews. Google can also list reviews from other sites in your business listing.
As mentioned, there are things you shouldn't do when soliciting reviews to avoid penalties:
Don't request reviews from customers in bulk. Request reviews one by one only from genuine customers after genuine transactions. Don't send bulk email review requests that don't reflect real customer transactions.
Don't incentivize consumers. Incentives are likely to inject positive bias into reviews. Your reviewers may also call you out for "bribing" them in return for reviews. Providing incentives for reviews is not ethical because it taints the results. Don't do it.
Don't discourage or prohibit negative reviews, or ask for only positive reviews. A negative review is not the end of the world. If a customer writes a complaint, say that you understand their problem and are willing to solve it.
Never post reviews on third party sites on behalf of customers. Reviews must come directly from customers from their own devices.
The good news is that most platforms allow encouraging customers to leave reviews. All things considered, every business should have a review solicitation strategy in place, especially small local businesses.
How to Solicit Reviews the Right Way
Here are three ways to ask your customers to leave a review.
Ask Your Clients
Stellar customer service and product quality are not enough. Your customers might need a little push to share their opinion online. Research shows that 7 out of 10 customers would leave a review if prompted.
So don't be afraid to solicit reviews, and make a plan to do it correctly. This simple task can easily get forgotten because it's not a vital part of running your day-to-day business, but there are solutions to make it easy for you to ask for reviews.
For example, add a post-it reminder on your paperwork so you won't forget to mention this to your customer, or delegate, if you can, to your assistant or another staff member.
Solicit a review from every single customer to increase your odds. Hopefully your satisfied clients will be happy to help you out. Considering that 77% of consumers ignore online reviews that are older than 3 months, you should aim for a consistent flow of fresh reviews (at least 2-3 a month).
Solicit Reviews at the Right Time
Strike while the iron is hot. The best time to solicit reviews is at the end of a transaction. Don't save the "review requesting" task for the end of the month or for when your workload is easier.
By then, your customer's enthusiasm might have cooled off. They could see your review request as one more thing on their to-do list.
So make a habit to solicit reviews as soon as the transaction is done. That's the moment when the client is most likely to oblige.
Make it a Breeze
Leaving reviews should be smooth and painless. This might seem obvious, but many businesses fail to make it easy for customers to leave a review.
Tell your customers exactly where you want them to leave reviews, and include a direct link to your review platforms.
By the way, don't ask them to write a review on all your platforms. Offer no more than three choices, such as Google, Facebook, and Angi. Remember the the paradox of choice: too many choices may overwhelm or confuse your customers and they may end up not choosing anything.
If you're face to face or on the phone with customers, tell them you'd like to hear from them and point them to the online place where they can leave a review.
To make requesting reviews even simpler, consider using an online review platform. They allow you to easily send tailor-made review request emails directly to your customers. These tools also help the customer provide feedback and reviews effortlessly.
Why Use a Review Solicitation App
Review solicitation apps simplify the process of asking for reviews and of guiding users to your review links.
Consider this scenario: you run a brick-and-mortar office and you've just finished business with a customer in person. Do you tell them face to face: "Hey, thanks for your business. Can you please leave me a review online?" and hope they'll oblige? It's not ideal, as they'll probably forget by the time they get to their car.
Would you hand them a tablet or phone and say: "Here you go, would you write your review?" Of course not! That will get you in hot water with Google due to your device's ID (and not only). To write a legitimate review they need to be logged in to their own account, not yours.
Instead, why not send them a personalized email or text message to tell them exactly what to click to get to your review pages. Review requests apps make setting up custom emails and social platforms easy. You just have to customize the message a bit (client's name, transaction type, etc.).
Yes, you could sit down and email individual clients a link to your review channels, but finding time to write an effective email sometimes takes longer than you expect. Inevitably, as you locate, copy and paste the links to your social channels, you'll find 10 more things to do in your inbox. A review request app could help you present a polished, consistent message, and in the process save you – and your client – precious time.
Conclusion
Online reviews are the ultimate social proof. They improve your reputation and SEO, validating your business to attract more customers.
Reviews can literally put your local business on the map. How so? With enough good reviews (and other SEO strategies), Google rewards you by listing your business at the top of map searches. When you reach the top spots, the potential for getting clicks skyrockets.
But getting reviews is not so easy – it can happen organically, or you can give it a little push.
Put this in your marketing plan: solicit reviews from genuine customers, asking them to leave a sincere review. Advertising will get clients to your door but ultimately it's what other customers say about you that closes the deal.
If you think more online reviews could improve your company's social proof, check out our review solicitation app, Bright Reviews. It makes review solicitation a breeze and streamlines your clients' actions to make writing honest feedback simple and straightforward. Give it a shot!