Bright Pink Agency's 15th Anniversary: 15 Lessons Learned in 15 Years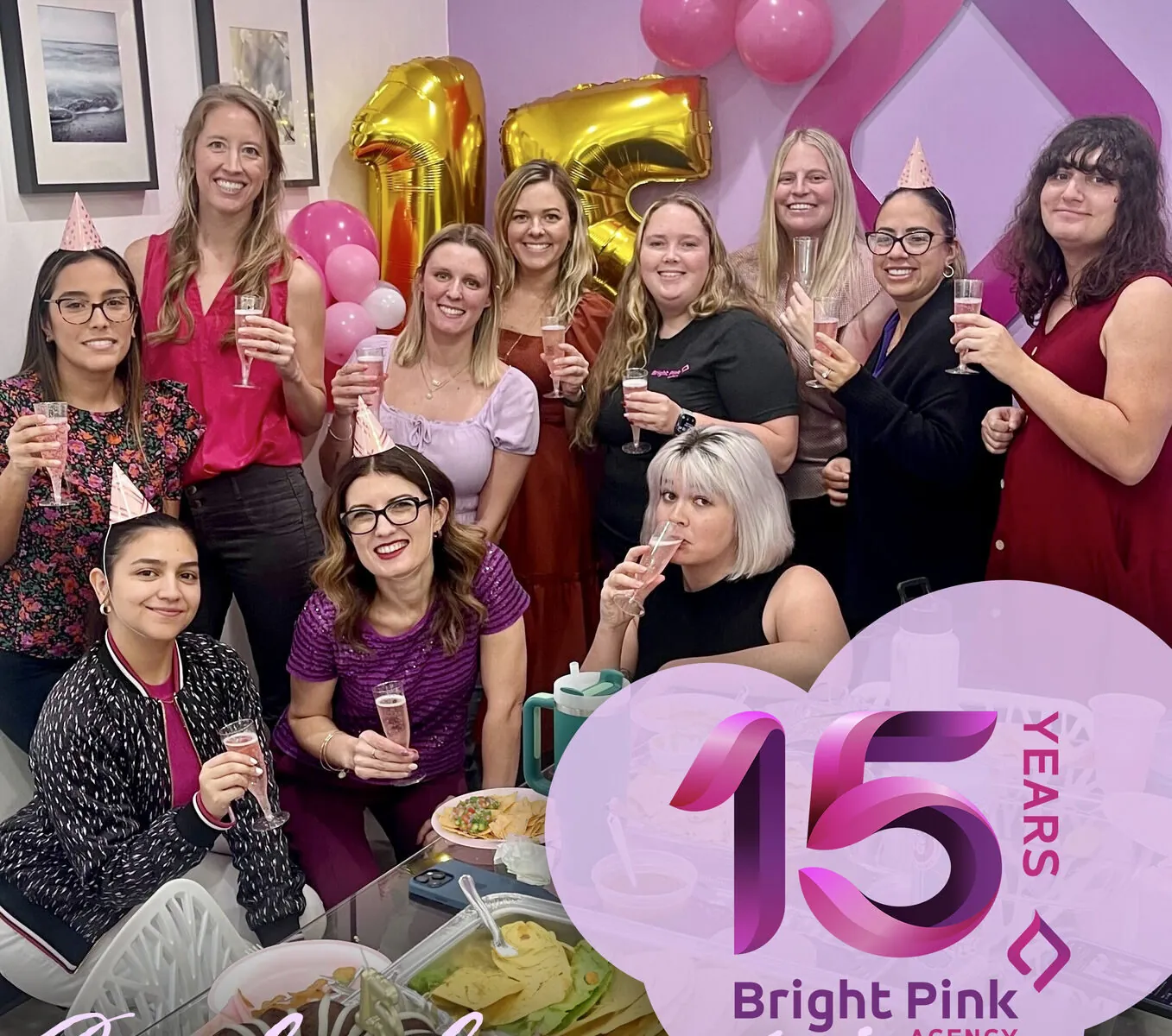 Picture this. It's 2008. Apple introduced the iPhone 3G. The Dark Knight topped the box offices. Times were simpler, and a little-known startup called BrightPink Studio (later rebranded as Bright Pink Agency) embarked on a journey into the ever-changing marketing world.
Since then, 15 years have passed. We've experienced paradigm shifts in technology, culture, and how we approach consumers. Marketing has evolved faster than ever, and so have we. With Bright Pink Agency's 15th anniversary closing in, through it all, we've remained committed to one of our core values: the unwavering drive to learn.
That's why we've condensed our 15 years of success in the marketing field into 15 invaluable lessons any business can use. We're giving you the springboard. Ready to dive in?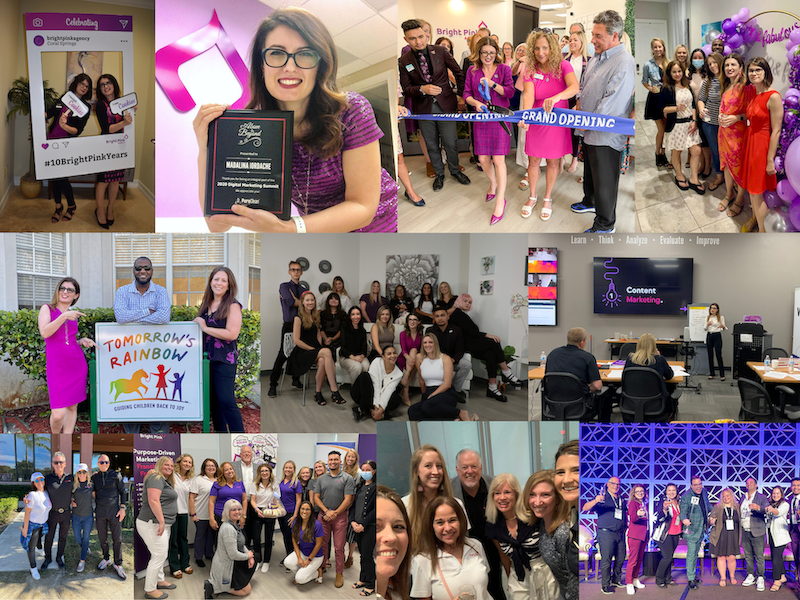 1. The Importance of Brand Identity
You should always ask yourself: what sets you apart? For us, it was our core values of empathy, passion, and drive. Crafting a unique and memorable brand identity makes a business stand out. It builds trust, emotional connections, and brand loyalty. Be the lighthouse in a sea of ships.
2. Beyond the Pitch
Clients are more than just numbers. They're real people who want reassurance, confidence, and their needs heard. Moving past transactions and into trust is a significant step towards success. We nurture relationships, not sales.
3. Empathy Rules
It follows then that empathy matters. We step into the client's shoes. Half of building a relationship is just listening. That earns us respect, and we gain a deeper understanding of what clients ultimately want.
4. The Power of Group Think
One mind is brilliant, but together, we're genius. Collaborative brainstorming supercharges innovation, giving us unique solutions for clients. Not only that, but collaborative brainstorming is efficient and fluidly enables communication, saving time.
5. The Art of Storytelling
Everyone loves a great story. Compelling narratives drive engagement, leaving lasting impressions. Sell success, experience, and expertise. Inspire others, and they'll seek you out.
When we shared our knowledge of multi-location marketing, we developed a seamless narrative that hooked users in and kept them engaged. That meant over 15,000 users encountered our blog across a three-month period through web searches, social media, and more. That's what a great story can offer you.
6. Keep Experimenting
Sometimes, a new direction is what you need. Experimenting is how innovation is born. Taking calculated risks and embracing new approaches is part of how we make progress. So, if you want game-changing results, experiment. You never know until you try.
7. Triumph in Failure
It's not if you fail, but when. How you respond matters most. We've learned our best lessons from failure, and we celebrate that. It's just a part of the journey towards success. So, don't fight it. Triumph.
8. Website Design is King
Websites are the face of every business today. They're a top priority. By improving the user experience on a website, you improve engagement and, in turn, leads. In 2018, one of our clients dreamed big. So, we revived their website, solidifying their digital presence and giving them an adaptive hub for their growing franchise network.
The result? In the first year, the number of pages visited per session increased by 51%. The time on site per user increased by 88%. Most importantly, the website easily scaled with our client's growth as their franchises more than doubled within five years. That's the power of website design.
9. Paint a Picture
Visual media is a force multiplier for every business. You can convey complex ideas and data efficiently and engagingly to clients. Think about graphs, logos, and social media content. It's a vital part of how we make a brand image influential.
10. Underpromise and Overdeliver
Here's how we impress. We set realistic expectations for clients, but consistently surpass them. Positive referrals play a huge in proving reliability, trustworthiness, and outstanding service. It's what our reputation is built on. When the sky's the limit, we reach into the stars.
11. The Human Factor
In the digital age, technology can dull anyone's personal touch. Don't ignore the value personal interaction can bring. Face-to-face communication and personalized attention are the backbone of our client relationships. Chatbots can't replace a warm handshake.
12. Adaptability is a Superpower
Change is constant, so stay adaptable. By embracing change and adapting, we remained at the forefront of the marketing world. Don't let yourself struggle by being inflexible. It's a superpower you'll need.
13. The Bright Pink Tribe
Our team makes a point of being more than just colleagues. Through our shared perspective and unity, we're more like a family. Our close connection with each other allows us to innovate comfortably, openly discuss our goals, and stay focused. That's the sort of team you want on your side.
14. The SEO Revolution
In the past, SEO involved cramming keyword after keyword into content. Today, we've moved past that by developing content that's useful for clients and connects with others.
Even then, SEO is constantly changing, and what works now may not work in the future. It's a marketing arms race we stay on top of, keeping clients competitive and ready.
15. Looking Ahead
While we mark our 15th anniversary, we're not merely reflecting on the past but eagerly venturing into the future. We're always thinking about how we can surpass expectations and further improve. It's what makes us different. It can make a difference for you, too.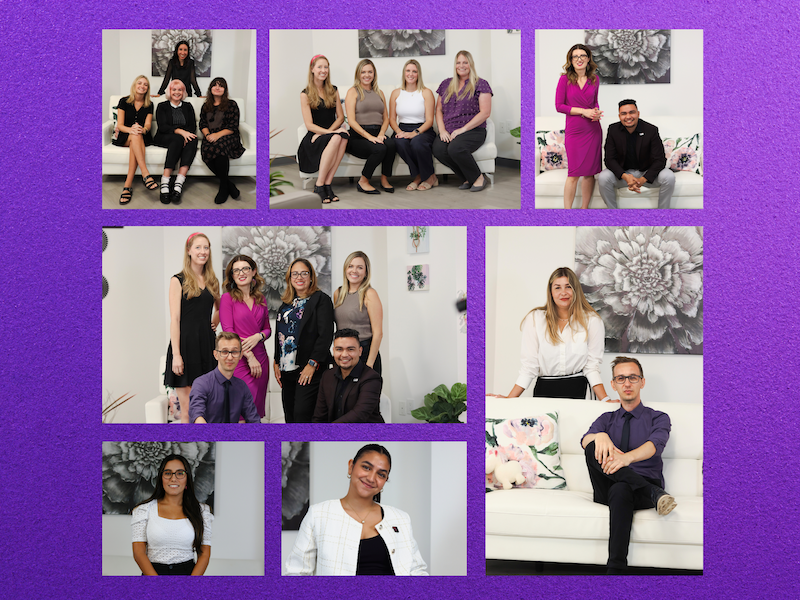 Need Help with Franchise Website Design, Development, and Maintenance? Call Bright Pink Agency Today!
Are you ready to elevate your franchise's digital presence? Bright Pink Agency is your go-to destination for top-tier website design, development, and maintenance services. Our team of skilled designers and developers thrives on creativity and innovation. Whether you're building a site from the ground up or giving your existing one a fresh look, we're here to turn your vision into a captivating reality. Reach out to us today, and let's craft a website that leaves a memorable mark!