Bright Pink Agency Celebrates New Headquarters with Ribbon-Cutting Ceremony and Open House Networking Event
The boxes are unpacked, the pink throw pillows are fluffed. We're finally ready to welcome you to our new office! Though we moved in early January, we immediately rolled up our hypothetical sleeves (it's South Florida, after all; we don't actually own clothing with long sleeves here) and got to work on the #1 reason why we moved in the first place: growth.
But then, we thought it'd be nice to finish settling in and invite some friends over!
Therefore, on June 8th, we held an official ribbon-cutting and open house event to welcome friends, family, partners, clients, and the local business community into our new space.
Allow us to backtrack down memory lane for a paragraph or two. This happens to be a banner year for our agency, celebrating 15 years in business. That's 15 years of dreaming big and making it happen. Last year, in a world that leaned towards remote work and downsizing office space, we did the opposite. We doubled down (no, tripled!) on collaboration and in-person connection—so much so that we decided to expand our office space. (Though don't get us wrong, we still love our hybrid days and WFH options.)
We've dreamed up a space full of light, creativity, collaboration, and positive energy. A space where we can feel inspired, where we can dream big and make it happen. That reflects who we are as a brand. A space where we can grow—and hopefully outgrow again! (And a full-size fridge, thank you very much.)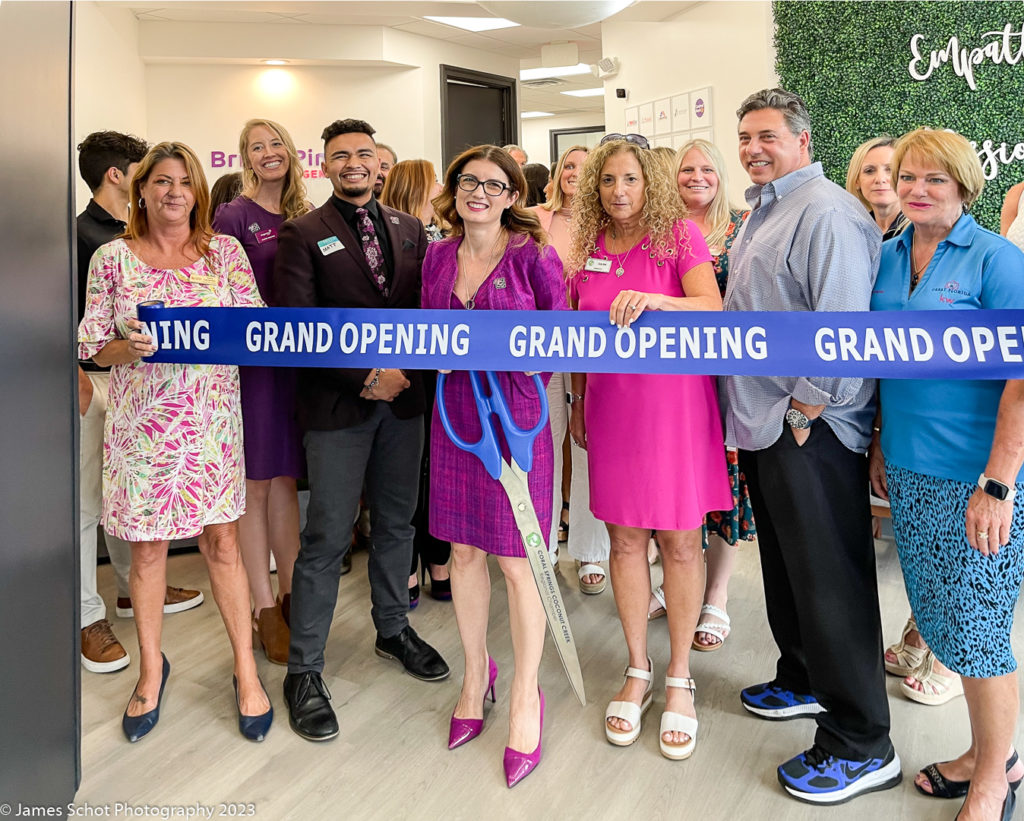 So, in the presence of Mayor Scott J. Brook, city officials, members of the very supportive Coral Springs Coconut Creek Chamber of Commerce, and, of course, our staff, families, friends, clients, and raving fans (not bragging…ok maybe just a bit), our CEO ceremoniously cut the Grand Opening ribbon, to the delight of everyone present. (Or maybe it was relief? Those were very large scissors.)
Then, we invited everyone to not only visit our new space and see where the magic happens but, most importantly, meet our team, enjoy some refreshments, and network with the wonderful business community we're so fortunate to be part of.
As for our goals, we've been here since January—five months as of our open house day. During this time, we've not just settled in but also kicked off that growth; we have three new employees that joined us last month, plus two wonderful interns.
Many thanks to everyone who came to support us. We are truly privileged to be surrounded by such wonderful people. Let us all remember that in any B2B relationship, we have people working with people. No matter how cool our new space is (again, not bragging, just stating what others have told us), at the end of the day, our company is made of our people, our values, and the community we built around us. High-fives all around!
For Your Marketing Needs, Contact Bright Pink Agency
See what the talk is all about! Bright Pink Agency is here for your franchise and nonprofit marketing needs. Learn how our services can elevate your business to a new level.