FranTech Event Takeaways: Embracing Technology for Franchise Success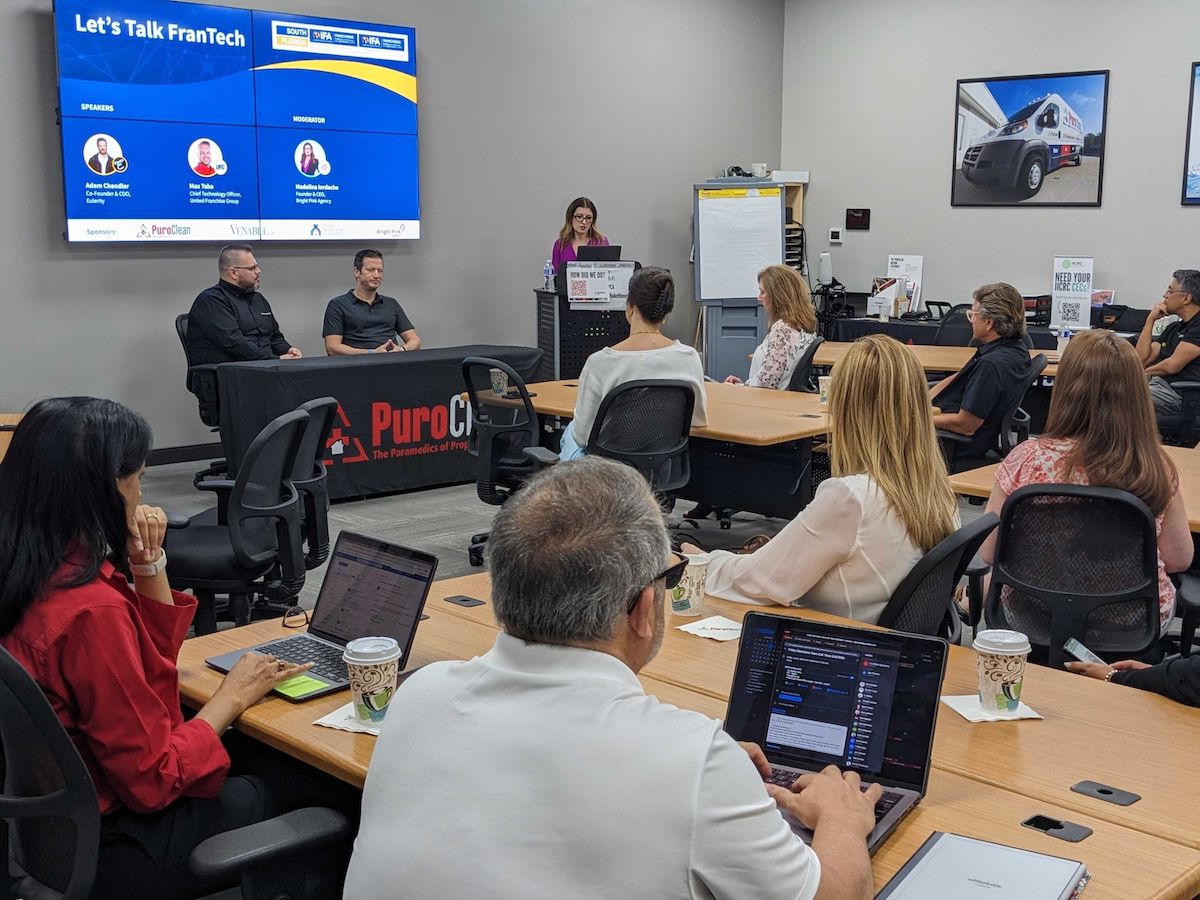 The Let's Talk FranTech event on June 1st at the PuroClean Home Office in Tamarac, Florida, was an insightful exploration of technology's role in the franchise industry. The event was held by the South Florida Women's Franchise Network (WFN) and Franchise Business Network (FBN) and sponsored by the following businesses: Home Franchise Concepts, Venable LLC, Bright Pink Agency, and PuroClean.
The engaging panel discussion and conversation featured Adam Chandler, Co-Founder and COO of Eulerity, and Max Taha, Chief Technology Officer of United Franchise Group, sharing their insights on leveraging franchise technology for scalable success. Bright Pink Agency President and CEO Madalina Iordache served as Moderator at the event. Attendees gained valuable knowledge and takeaways to enhance their franchise operations.
Here's a rundown of our key learnings from FranTech:
1. Integration Is Key
In the digital age, no single technology tool can cater to the unique needs of every franchise. Finding platforms that can seamlessly integrate and connect is crucial to creating a cohesive and efficient experience for your franchise system. By leveraging integrated platforms, you can enhance connectivity, streamline operations, and deliver exceptional experiences to your customers and franchisees.
2. Data Is Power
Data plays a pivotal role in driving franchise success. Prioritizing data ownership, security, and privacy allows you to harness valuable insights to improve operations and make informed decisions. Remember to back up your data and have a robust system in place to analyze past data. By understanding past performance and trends, you can optimize your strategies for the future and maximize your franchise's potential.
3. Scalability and Flexibility
Choose technology platforms that can grow and adapt alongside your business to set your franchise up for long-term success. Look for solutions that can accommodate the needs of both a small number of franchisees and a rapidly expanding network. Scalable and flexible technologies empower your franchise to thrive at any stage, ensuring consistent operations and superior customer experiences.
4. Technology: The Great Equalizer
Technology has become the great equalizer in today's competitive landscape, allowing smaller emerging brands to compete head-to-head with larger competitors. Smaller brands can leverage the agility and speed of implementing new technologies, such as artificial intelligence (AI), to gain a competitive edge. However, it's important to recognize that AI is a powerful tool, not a magic solution. Combining AI with strategic human expertise creates a winning formula for success.
5. Making Budgets Work Harder
AI and technology empower smaller brands to maximize resources and achieve more with limited budgets. By leveraging technology effectively, smaller franchises can optimize operations, drive customer engagement, and outshine their larger counterparts. With strategic implementation and a focus on innovative solutions, smaller brands can level the playing field and significantly impact their respective industries.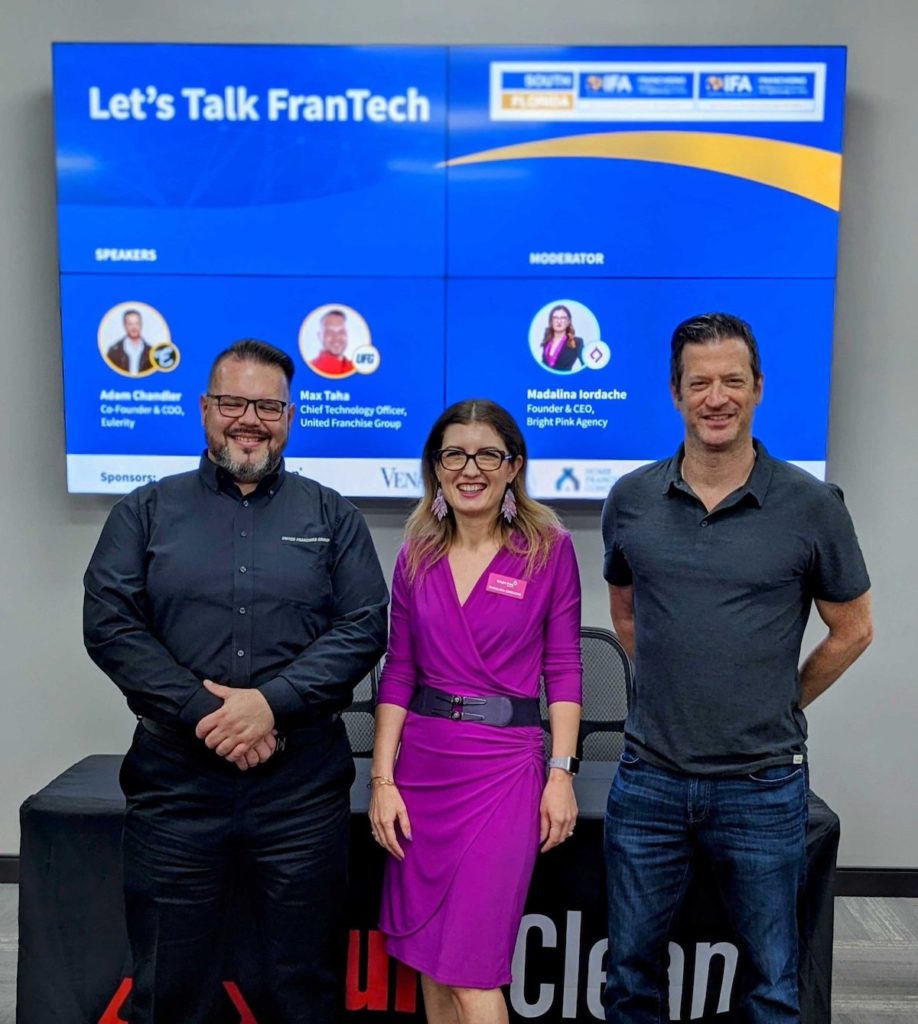 FranTech: Build it or Buy it?
When it comes to developing technology solutions, the decision to build custom software or adapt existing platforms depends on several factors. Consider the following:
1️⃣ Available Platforms with Customization Potential. Seek out platforms that offer flexibility, allowing for quick deployment while also providing room for future customization to meet your franchise's unique needs.
2️⃣ Time, Cost, and Mental Capacity. Developing technology from scratch can be a time-consuming and resource-intensive process. Determine whether your franchise has the time, financial resources, and expertise to embark on this journey.
3️⃣ Core Competency. If technology development is not your franchise's forte, outsourcing may be the most viable option. Collaborate with professionals who specialize in creating scalable solutions, freeing up your resources to focus on strategic initiatives.
Remember, every franchise is unique, so take the time to evaluate your specific requirements, goals, and available resources. Seek guidance from industry experts to help you make an informed decision that aligns with your long-term success.
The FranTech panelists also shared valuable insights:
Don't rush into adopting a platform without thorough vetting. Utilize a balanced vetting process and gather feedback from a diverse group of franchisees before making a decision.
To technology vendors: don't compromise on your ideal client profile or processes. Avoid saying yes to mediocre client requests simply to secure an account. Stick to your strategies and maintain the integrity of your solution.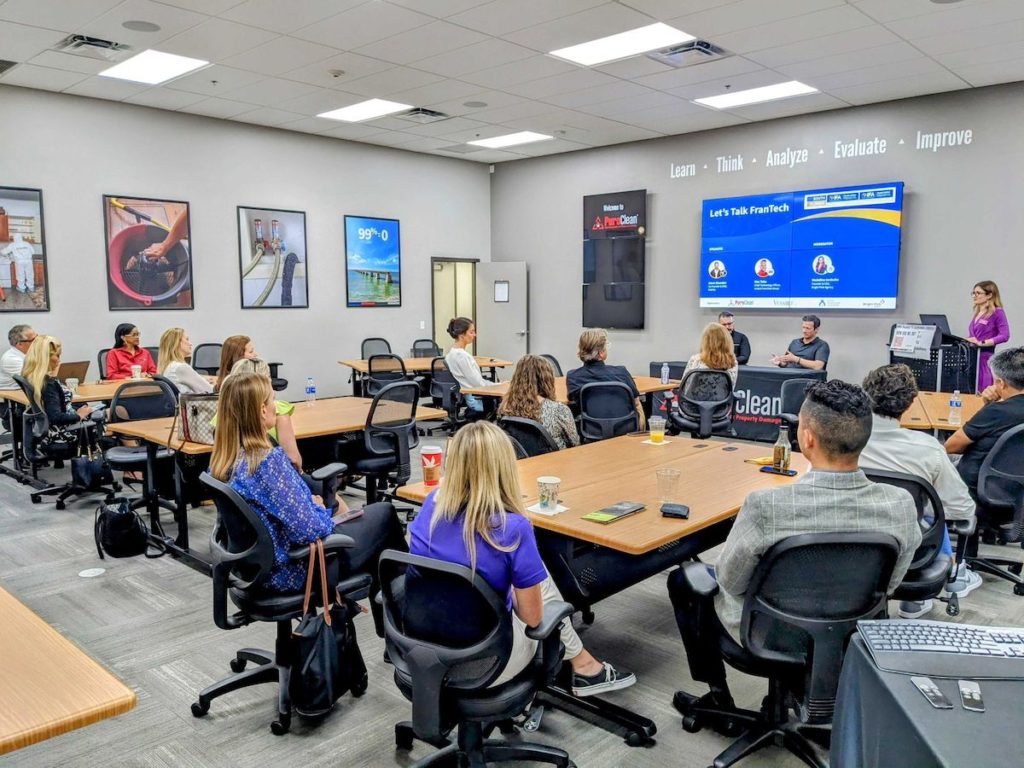 Fostering Franchisor-Franchisee Tech Support
Franchisees often face challenges when receiving adequate tech support from franchisors, so be sure to engage the franchisor directly and take proactive steps to address the issue. Head a committee of fellow franchisees to voice your concerns and seek solutions collectively. Remember, the franchisor is responsible for guiding you toward success and providing the necessary tools and resources. Additionally, reach out to multi-unit owners and network with other franchisees for advice and support.
Best Practices for Choosing a Tech Company
Conduct thorough vetting. Clearly define your objectives and must-have features. Gather feedback from current users of the service or platform you are considering.
Assess past performance. Analyze what has worked well for your franchise in the past and identify areas for improvement. Incorporate these insights into your decision-making process.
Attending the Let's Talk FranTech event gave everyone invaluable knowledge and guidance for navigating the ever-evolving intersection of technology and franchising. By embracing technology, franchises can unlock new opportunities, streamline operations, and drive sustainable growth. It helps to seek expert advice and collaborate with industry professionals to harness the power of technology to elevate your franchise!